Future meetings and events around the district
Bassenthwaite - Sun 1st April 2018 at 10.00 - 11.00 Rotary Cafe on Latrigg

Bassenthwaite Rotary club intend running our Famous "Latrigg Cafe"
on Easter Sunday, with a range of hot drinks, Cumberland sausage and Bacon in a Bun, come and enjoy the Cafe with a view !
Brampton & Longtown - Sun 8th April 2018 at 10.00 - 16.00 Annual Metal Detecting Rally 2018
Approx 80 acres not previously detected! Little Corby Hall Farm, Little Corby, Warwick Bridge, Nr Carlisle. CA4 8QS.
West Lakeland - Mon 14th May 2018 at 05.30 - Fri 18th May 2018 - 13.00 Alan Hurst Walk
Our anuual charity walk. We will be walking the Sandstone Trail in Cheshire.
Bassenthwaite - Sat 30th June 2018 at 19.30 - 22.30 Bassenthwaite Rotary - Charter Celebration & Handover
A social event at the Skiddaw Hotel, Keswick to celebrate President Alan's successful year and to handover to David Simpson our President for 2018-19.
Guests and Partners are cordially invited to join us.
Bassenthwaite - Sat 22nd September 2018 at 10.00 - 16.30 Great Derwentwater Tigerboat Challenge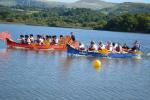 An exciting day for all the family to compete and spectate in a fun event to raise money for your favourite charity