Future meetings and events around the district
Durham Bede - Mon 19th March 2018 at 18.00 - 21.00 Rotary Durham Bede Annual Games Night
The evening of fellowship and fun is hosted by Rotary Durham Bede club members and includes a delicious pie and chips supper. Details and entry forms available in the new year.
An information and booking form is available from Durham Bede Secretary.
Bishop Auckland - Wed 21st March 2018 at 19.00 - 22.00 An Evening with Peter Barron

Listen to Peter Barron former editor of The Northern Echo. Humour and anecdotes about his 17 years at the sharp end of newspaper journalism.
Spennymoor - Mon 16th April 2018 at 20.00 - 21.00 Speaker - Pat Lawton
Speaker for the Night on Monday 16th April 2018 is Pat Lawton regarding Picnic in the Park
Bishop Auckland - Sat 21st April 2018 at 19.00 - 21.00 Ukulele Night with Stockton to Darlington Ukulele Express

Joint event with Inner Wheel of a ukulele club based in Darlington who do a number of events throughout the year.
Venue: Shildon Civic Hall 7.00pm for 7.30pm
Spennymoor - Mon 23rd April 2018 at 16.30 - 20.10 St Georges Evening at the Races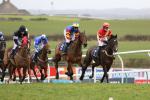 St Georges Evening will be held on Monday 23rd April 2018 at Sedgefield Racecourse.
Barnard Castle - Thu 3rd May 2018 at 19.00 - 20.55 The Rise and Fall of the Provincial Jewish Communities in Britain – with a focus on the North-East
Our Speaker is David Newman OBE is professor of Geopolitics at Ben-Gurion University in Israel where he has lived since 1982. He studied for his Ph.D at the University of Durham between 1979-1982.
Bishop Auckland - Sun 13th May 2018 at 09.00 - 16.00 Swimathon at Spennymoor Leisure Centre
Charity swim at Spennymoor Leisure Centre
Spennymoor - Mon 18th June 2018 at 20.00 - 21.00 Speaker - John Culine MBE
Speaker for the Night on Monday 18th June 2018 is John Culine MBE from the Showmen's Guild
Spennymoor - Mon 16th July 2018 at 20.00 - 21.00 Speaker - Mark Solan
Speaker for the Night on Monday 16th July 2018 is Mark Solan from the Solan Connor Fawcett