Future meetings and events around the district
Tewkesbury - Sat 4th November 2017 at 18.00 - 21.00 Tewkesbury Grand Bonfire & Fireworks
Come and join us for the best bonfire and fireworks display in the county.!
Cheltenham - Mon 6th November 2017 at 18.30 - 22.00 Charity Ten Pin Bowling

Enter a team for a fun evening raising funds for a new Ultrasound Scanner to help the local Breast Cancer Team.
Cheltenham North - Sat 7th April 2018 at 12.00 - 19.00 Cheltenham Wine Festival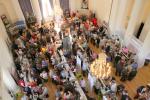 Taste before buying.
Saturday 7th April, 2018, 12 - 15 pm and 16 to 19 pm
Click Details for link to Wine Festival Website