Future meetings and events around the district
Brampton & Longtown - Sun 8th April 2018 at 10.00 - 16.00 Annual Metal Detecting Rally 2018
Approx 80 acres not previously detected! Little Corby Hall Farm, Little Corby, Warwick Bridge, Nr Carlisle. CA4 8QS.
West Lakeland - Mon 14th May 2018 at 05.30 - Fri 18th May 2018 - 13.00 Alan Hurst Walk
Our anuual charity walk. We will be walking the Sandstone Trail in Cheshire.
Keswick - Fri 7th September 2018 at 14.00 - Sun 16th September 2018 - 12.00 EXPERIENCE OF A LIFETIME 2018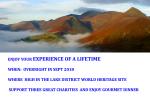 Charity Fund Raising Event