Future meetings and events around the district
Skipton - Sun 9th June 2019 at 10.00 - 13.00 Cycles2Recycle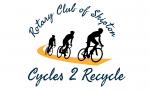 Auction and sale of bicycles. HAVE YOU AN OLD BIKE WE CAN HELP YOU TO DISPOSE OF? DO YOU WANT A BIKE FOR A CHILD, TEENAGER OR ADULT? THEN CONTACT THE ROTARY CLUB OF SKIPTON TO HELP YOU.
Bikes will be auctioned at CCM Auctions Skipton 9th June at 11.00.
Skipton - Sat 2nd November 2019 at 19.00 - 22.00 City of Bradford Brass Band concert - 2nd November 2019
Concert by this ever popular local Brass Band. Holy Trinity Church 7.30 start tickets £10 p.p.
Skipton - Wed 11th March 2020 at 19.00 - 22.30 Charter Night

This will be our 90th Charter celebration.
Skipton - Thu 19th November 2020 at 19.00 - 22.00 Black Dyke Band concert November 2020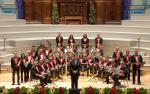 Black Dyke Band will be performing a selection of their works at Skipton Town Hall. Doors open 7.00pm & concert commences 7.30pm.