Future meetings and events around the district
Greenock - Tue 3rd April 2018 - Tue 10th April 2018 Collections for the Port Glasgow URC Food Bank
Each April the members of Greenock Rotary are asked to donate tinned and dried food to the Port Glasgow United Reform Church food bank.
Greenock - Sat 14th April 2018 at 10.00 - 12.00 Blood Pressure Testing
Each April Greenock Rotary, in conjunction with the Stroke Association Scotland, run a Know Your Blood Pressure Event in the Oak Mall. This involves offering members of the public the opportunity to have their blood pressure tested.
Gryffe Valley - Sun 29th April 2018 at 13.00 - 15.00 GRYFFE VALLEY 10K RUN 2018
Route on country lanes between Houston, Bridge of Weir and Kilmacolm, starting from Houston Public Park, for all abilities from serious runners to novices/joggers.
Gryffe Valley - Sat 19th May 2018 at 09.00 - 16.30 Charity Car Wash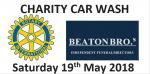 Rotary Charity Car Wash at Beaton Bros Bridge of Weir. Treat your car to a quality hand wash - normally reserved for Beaton's limos.