Future meetings and events around the district
Elland - Fri 14th September 2018 at 19.00 - 23.55 1940's RAF Dinner Dance

Join us as we turn back the clocks to celebrate our boys in blue during their finest hour.
With a three course dinner and live music from the Nightingales.
Elland - Sun 16th September 2018 at 10.00 - 17.00 The Elland Community Fair

Raising funds for local charities whilst having fun....
Sowerby Bridge - Fri 8th February 2019 at 19.00 - 22.00 An evening of pig racing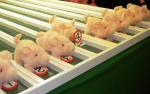 No animals will be harmed in this production