Future meetings and events around the district
Glastonbury & Street - Sat 18th November 2017 at 19.00 - 19.00 Disabled Viewing Area at Glastonbury Carnival
We provide a reserved seating area with chairs for disabled spectators.
Chard - Thu 25th January 2018 at 19.30 - 22.55 Burn's Night Supper and Auction of Promises

Join us to celebrate Burn's Night with supper and an Auction of Promises
Chard - Sat 21st April 2018 at 19.30 - 22.00 St. George's Celebration Concert in St. Mary's Church, Chard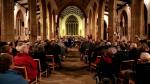 An evening of celebration featuring the music of the Phoeniix Brass Band.
Chard - Wed 13th June 2018 at 13.30 - 16.30 QuadKids Primary School Athletics Event

An annual athletics competition involving children from around 13 local Primary Schools.