Future meetings and events around the district
Broughty Ferry - Sat 23rd March 2019 at 19.00 - Sun 24th March 2019 Charity Dinner Dance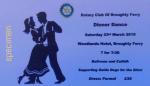 Rotary Club of Broughty Ferry is organising a formal Dinner Dance 7 for 7.30
Fundraising will take place at the event for Guide Dogs for the Blind.
Broughty Ferry - Wed 17th April 2019 at 19.45 - 21.30 Charity Quiz Night

Charity Quiz Night at the Fort Hotel
Howe of Fife, The - Thu 18th April 2019 at 19.00 - 20.30 Annual Lecture

My Sporting Life. Gina Logan MBE will deliver our 'annual' lecture at Bell Baxter High School. Tickets are available from any member of the Howe of Fife Rotary Club.
St. Andrews - Sun 9th June 2019 at 19.00 - Thu 13th June 2019 - 22.00 Rotary Club of St Andrews International Golf Tournament 2019
Fellowship golf tournament on the Old Course for Rotarians from all over the world. Details from rotarygolfstandrews@gmail.com