Future meetings and events around the district
Skipton - Sun 20th May 2018 at 09.00 - 16.00 Dragon Boat Racing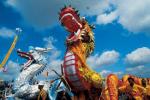 Dragon Boat racing at Coniston Lake, near Skipton Sunday 20th May 2018. Minimum size for a team is 6 paddlers & one drummer but can be up to 10 paddlers plus drummer. If you have more then you can rotate them. Download entry details below.
Skipton - Sun 10th June 2018 at 10.00 - 17.00 Morecambe Bay Walk

A Charity Walk across Morecambe Bay under the leadership of the Queen's Guide. Fellow Rotarians and friends all welcome.