Future meetings and events around the district
Burntisland & Kinghorn - Sat 23rd March 2019 at 19.00 - 23.00 Charity Race Night
A night at the races. Come and help us to raise funds for various charities and have a great night out. Tickets only £10 for entry and a buffet.
Carnegie Dunfermline - Thu 28th March 2019 at 18.30 - 22.30 Curry & Quiz

Curry & Quiz at The Apricot Restaurant
Leven - Sun 7th April 2019 at 10.30 - 14.00 Sponsored Beach Walk 2019

Sponsored beach walk from Leven to Largo which is 5 miles in total.
Glenrothes - Fri 12th April 2019 at 06.30 - 23.30 Sportsman's Dinner 2019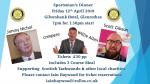 Annual sportsman's dinner in the Gilvenbank Hotel Glenrothes