Future meetings and events around the district
Letchworth Howard - Thu 14th November 2019 at 18.30 - 22.00 Letchworth Howard Darts Challenge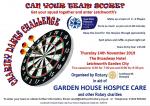 Our popular charity darts challenge is back. Have fun playing a great game while raising money for Garden House Hospice and other Rotary charities. How many points can your team score in an hour? Prizes for top scorers, spot prizes, raffle, licensed bar.
Biggleswade Ivel - Sat 16th November 2019 at 19.00 - 22.30 Call My Bluff Wine Tasting
Wine Tasting with a Difference
Letchworth Howard - Wed 27th November 2019 at 18.45 - 21.30 Letchworth Howard Christmas Chairty Concert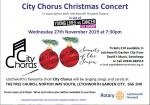 Grand charity Christmas concert at Letchworth Free Church featuring City Chorus, one of North Herts' foremost music ensembles. In aid of CLIC Sargent – Young Lives vs Cancer.