Future meetings and events around the district
Letchworth Howard - Fri 23rd March 2018 at 14.00 - 17.00 Rotary aims to deal hospice a Winning Hand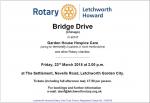 Letchworth Howard Rotary Club is looking to deal Letchworth's Garden House hospice a winning hand at the club's Annual Bridge Brive on Friday March 23.
Biggleswade - Tue 10th April 2018 at 12.00 - 14.30 Biggleswade Charter Lunch

52nd Charter Celebration
Letchworth Howard - Sat 21st April 2018 at 19.00 - 22.30 Lethworth Howard Quiz Night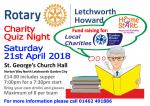 in aid of Home Start, Letchworth Garden House Hospice and other local charities.
Biggleswade Ivel - Sat 28th April 2018 at 19.30 - 22.30 An Evening of Song

Songs of the 50s and 60s with Fiona Harrison "a voice in a million"
Biggleswade Ivel - Fri 11th May 2018 at 19.30 - 22.30 Call My Bluff Evening