Future meetings and events around the district
Brookmans Park - Sat 2nd December 2017 at 17.15 - 19.00 Christmas Tree Lighting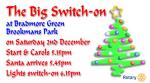 Come and see the lights turned on at Bradmore Green, Brookmans Park. Mince pies, mulled wine and hot chocolate. Big switch on with Christmas Carols and panto celebrities.
Brookmans Park - Sat 24th March 2018 at 17.30 - 21.00 Sponsored Swim

Take part and help raise money for your own chosen charity and Rotary.
St. Albans - Sun 13th May 2018 at 08.00 - 15.00 St Albans Rotary Charity Cycle Ride 2018
The 2018 annual Rotary charity cycle ride will take place at Oaklands, St Albans. For more details go to www.saccr.co.uk in the New Year