Future meetings and events around the district
Corstorphine - Sat 27th January 2018 at 19.30 - 23.30 International Night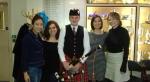 Our local take on Burns Night with the Global Scholars, at Turnhouse Golf Club. Epic performances on and off the dance floor from people you may know!!
South Queensferry - Fri 16th March 2018 at 18.45 - 21.30 Senior Citizens' Concert
Our annual Concert for Senior Citizens
South Queensferry - Sat 2nd June 2018 at 22.00 - 23.00 Safari Dinner
A safari supper (UK) is a dinner party with successive courses prepared and eaten at the residences of different hosts.