Future meetings and events around the district
Esk Valley - Sat 16th November 2019 at 17.00 - 20.00 Charity Wine and Beer Tasting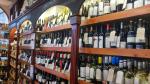 At Mining museum, Newtongrange in conjunction with Great Grog. Contact secretary for ticket details.
Penicuik - Fri 29th November 2019 at 19.00 - 23.00 50th Charter Dinner - Fully subscribed
Please note your diary our 50th Charter Dinner will be held in the Original Hotel, Roslin on 29th November. It is now fully subscribed but it would be worth contacting President Norman Glendinning should you wish to attend.
Esk Valley - Sat 18th January 2020 at 19.00 - 23.00 Charity Ceilidh
Ceilidh at St Matthew's Rosewell. Contact secretary for detail