Future meetings and events around the district
Thu 25th July 2019 at 19.00 - 21.00 DMS Workshop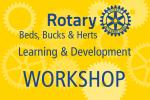 This Workshop is for any Rotarian who is a bit unsure about DMS or our online Directory,
7pm at Tilsworth Golf Centre.
Sir John Southby will be running the session and letting us all know how simple it is
Thu 1st August 2019 at 19.30 - 21.30 District Executive Team Meeting

Tilsworth Golf & Conference Centre, Dunstable Road, Tilsworth, Bedfordshire, LU7 9PU
Thu 22nd August 2019 at 19.30 - 21.30 Dementia Workshop
A workshop on how to handle Club members that are (or appear to be) suffering from Dementia.
at Tilsworth
This session will be run by a very practiced Rotarian in this field.
Wed 4th September 2019 at 19.30 - 21.30 District Council Meeting

Tilsworth Golf & Conference Centre, Dunstable Road, Tilsworth, Bedfordshire, LU7 9PU
Members Only Information:
Reports due 2nd August 2019
Wed 15th January 2020 at 19.30 - 21.30 District AdServ Team Meeting

Tilsworth Golf & Conference Centre, Dunstable Road, Tilsworth, Bedfordshire, LU7 9PU
Members Only Information:
Reports due 8th January
Wed 29th January 2020 at 19.30 - 21.30 District Executive Team Meeting

Tilsworth Golf & Conference Centre, Dunstable Road, Tilsworth, Bedfordshire, LU7 9PU
Sat 29th February 2020 at 09.00 - 17.00 Spring Expo & Council Meeting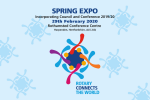 Rothamsted Park, West Common, Harpenden, Herts, AL5 2JQ
Thu 23rd April 2020 at 19.30 - 21.30 District AdServe Team Meeting

Tilsworth Golf & Conference Centre, Dunstable Road, Tilsworth, Bedfordshire, LU7 9PU
Members Only Information:
Reports due 1st April
Thu 23rd April 2020 at 19.30 - 21.30 District Executive Team Meeting

Tilsworth Golf & Conference Centre, Dunstable Road, Tilsworth, Bedfordshire, LU7 9PU
Fri 1st May 2020 at 14.00 - Sun 3rd May 2020 - 14.00 RIBI Showcase
NEC, Birmingham
Wed 13th May 2020 at 19.30 - 21.30 District Council Meeting

Tilsworth Golf & Conference Centre, Dunstable Road, Tilsworth, Bedfordshire, LU7 9PU
Members Only Information:
Reports due 15th April 2010
Sat 6th June 2020 at 09.00 - Wed 10th June 2020 - 18.00 RI Convention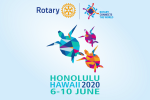 Hawaii Convention Center
Honolulu, Hawaii