Future meetings and events around the district
Thu 28th March 2019 at 18.30 - 21.30 Youth Speaks: District Final
Thursday, 28th March 2019: 6.30pm for 7pm start.
Great Marlow School Bobmore Lane, Marlow SL7 1JE
Tue 2nd April 2019 at 18.30 - 20.00 Training Session To Become A Dementia Friend (members only)
We have an opportunity to have a training session on how we can support someone with Dementia or is confused in a positive and supportive way. Please see the attached flyer for further details. You will be acknowledged that you have received the training
Sun 7th April 2019 at 13.30 - 18.00 Youth Speaks: Regional Final
Sunday, 7th April 2019: 1.30pm for 2pm start.
Great Marlow School, Bobmore Lane, Marlow SL7 1JE
Sat 4th May 2019 at 09.00 - 13.30 District 1090 Assembly - NOTE CHANGE OF DATE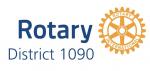 Christ Church Centre, Henley, Saturday 4th May. THE DATE HAS BEEN CHANGED BECAUSE RIBI ARE HOLDING THEIR NATIONAL CONFERENCE AND SHOWCASE 10th-12th MAY
Sat 14th December 2019 at 14.00 - 15.30 District Christmas Celebration
Douai Abbey, Upper Woolhampton, RG7 5TQ 2pm
Fri 6th March 2020 at 12.00 - Sun 8th March 2020 - 15.00 District Conference
Newbury Racecourse, RG14 7PN