Home | Meetings and Events
Thu 1st July 2010 - Sun 31st July 2011 Club Calendar of meetings
Here is our calendar of meetings for the year 2010-2011
Fri 10th September 2010 - "Do at the Zoo"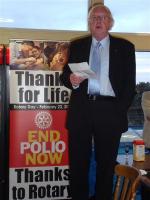 A Fund-Raising evening at The Welsh Mountain Zoo, tickets £10, from 5.30 p.m. to include a trip around the Zoo before a wine & cheese reception. See our club Fund Raising page
Mon 11th October 2010 - Colwyn Bay Charter Night
Rotary Club of Colwyn Bay's Charter night will be held at the Colwyn Bay Cricket Club at 7 for 7.30. Ladies and guest welcome.