Completed meetings and events 2017-2018
Wed 18th October 2017 - Thu 19th October 2017 Planting crocuses in Newtown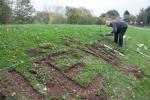 As part of the activities to raise awareness of polio and Rotary's involvement in its eradication the Club are planting thousands of crocuses on a bank near the river in Newtown
Mon 16th October 2017 Dinner - An Audience with Martin Doyle
Mon 9th October 2017 Vocational Evening at the Elephant & Castle Hotel

Our 2017 RYLA candidate discussing her experiences on the Award week.
Mon 2nd October 2017 Club Council followed by Business Meeting at Glanhafren Market Hall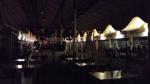 Buffet meal
Mon 25th September 2017 Rotary AWW Presentation at E&C Hotel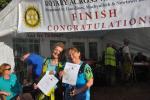 The Clubs of Llanidloes, Machynlleth and Newtown join together to celebrate this year's Across Wales Walk (24 June 2017)
Sat 23rd September 2017 Stroke Awareness Day

St John Ambulance Caersws Division will be on Broad Street to check blood pressures and give advice
Mon 18th September 2017 New Members Evening at E&C Hotel
Introducing visitors to Rotary and what we do
Fri 15th September 2017 Disaster Emergency Collection
In support of those suffering from Hurricane Irma the Club are holding a collection at Morrison's in Newtown and plan to put all monies raised towards the purchase of Shelterboxes
Mon 11th September 2017 District 1180 Quiz - Newtown versus Llanidloes
To be played at Glanhafren Market Hall, Market Street, Newtown. Buffet meal. BYO liquid sustenance
Sat 9th September 2017 Street Collection
To support Ponthafren Digital Inclusion Project
Mon 4th September 2017 Council and Business Meeting at the High St Deli, Newtown
Council at 6pm, Business Meeting at 7pm. Buffet meal £10 a head.
Sat 2nd September 2017 - Sun 3rd September 2017 Newtown Food Festival
The Food Festival is an annual event in Newtown, celebrating food, drink and music.
Mon 28th August 2017 Public Holiday - no meeting
Mon 21st August 2017 Visit to Glanmiheli, Kerry
Arranged by President Alan.
Basket Meal at the Kerry Lamb
Mon 14th August 2017 Talk by Graham Winchester - or maybe a quiz
At the Elephant & Castle Hotel
Mon 7th August 2017 Council and Business Meeting at Market Hall, Newtown
Mon 31st July 2017 Ponthafren
Visit to Ponthafren arranged by Denzil Jones
Meal at E&C
Mon 24th July 2017 Meeting organised by Community Services Committee
Llanllwchaiarn graveyard for maintenance work. Followed by meal at Bull and Heifer Bettws Cedawain at 7.30pm
Mon 17th July 2017 BBQ
Organised by President Alan
Venue Kerry
Mon 10th July 2017 Speaker evening
Organised by David Hall
Venue The Elephant and Castle Hotel, Newtown
Mon 3rd July 2017 Business Meeting
Planning events and fund raising
Mon 3rd July 2017 Council at Elephant & Castle Hotel
future
calendar
district events
local events