Completed meetings and events 2017-2018
Tue 13th March 2018 2 course meal with speaker Michael Stocks. Refugee Advocacy information and support
Join us for a 2 course meal followed by an interesting speaker. £15
Tue 13th March 2018 Club meeting with 2 course meal & speaker
Tue 6th March 2018 Club Council meeting
Tue 6th March 2018 Council meeting at home of Les Wright
Tue 27th February 2018 - Tue 27th March 2018 Club meeting with 2 course meal & speaker
Tue 24th October 2017 - Tue 23rd May 2017 Australia - England under sale 1900
George Howson will entertain the club This is the spectacular that was postponed from May this year
Tue 17th October 2017 Planting af crocuses for End Polio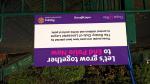 More evidence of Rotary's support for the worldwide push to "End Polio"
read more...
Tue 26th September 2017 Charlie Brown talking about The Princes Trust
This meeting will be held at The Lothersdale Hotel Promenade Morecambe. We will have a 2 course meal following by our speaker. Visitors are welcome, please phone 01524 846465 for more details
Sat 26th August 2017 Princes Trust
Charlie Brown talking to us about the Princes Trust
Tue 22nd August 2017 Business meeting
Committees formulate programmes for the year
Tue 8th August 2017 British Red Cross
Gordon Low gives a presentation of the work of the British Red Cross
Tue 25th July 2017 Altzheimer Society
Sue Swire gives a presentation for Altzheimer Society
Sat 15th July 2017 Summer Fayre
Summer Fayre at Ripley Court in support of Diabetes UK
Tue 11th July 2017 Members Evening
What did mother tell you - in ninety seconds
Tue 4th July 2017 Coumcil Meeting
July Council Meeting
read more...
future
calendar
district events
local events