Completed meetings and events 2016-2017
Wed 24th May 2017 Bill Aitkin, Speaker/Subject TBA; Door Duty John McGee and Andrew MciLraith
Wed 17th May 2017 Dave Rudge, Speaker Dave Rudge /Subject 'A Fun Quiz' ; Door Duty Edwina Keown & John McDonald
Wed 10th May 2017 Jim Sellens, Speaker/Subject TBA; Door Duty Jim Gordon & David Holmes
Wed 3rd May 2017 Business Meeting and AGM, Door Duty Chris Engel & Raymond Donald
Wed 26th April 2017 Neil Booth/Subject 'The Night Watch' ;Door Duty Chris Fry & Dave Edmonds, (Followed by a Council Meeting)
Wed 19th April 2017 Raymond Donald, Speaker Linda Franks/ Subject 'Mobile Learning Services in Cambodia'; Door Duty Jim Dempsie & Eddie Gillanders
Wed 12th April 2017 Ian Patterson, Speaker, Tony Pryke/Subject 'If it werny for the lassies oh!' ; Door Duty Jim Cordiner & Eric Dair
Wed 5th April 2017 Short Business Meeting; Door Duty Geoff Wilkinson & (Volunteer Required)
Wed 29th March 2017 Chris Engel, Speaker: Clare Jamieson of the Stroke Association; Door Duty, Bob McDowel & Ryan Bond, (Followed by a Short Council meeting)
Wed 22nd March 2017 George Sinclair, Speaker ?/Subject, SPCA Drumoak ; Door Duty, Linda Franks & ElaineSarah Freelove
Wed 15th March 2017 Speaker ElaineSarah Freelove/Subject Job Talk; Door Duty, Ian Burrows & Stewart Park
Wed 8th March 2017 David Holmes, 'Aberdeen Harbour Expansion Project' ; Door Duty Neil Booth & Bill Aitkin
Wed 1st March 2017 Business Meeting ; Door Duty Harry McNab & Bob Watt
Wed 22nd February 2017 Chris Fry, Speaker, Dave Rudge/Subject "Ship Building and Launching" ; Door Duty, Reg Wilkin & Colin Sutherland (Followed by a Council Meeting)
Wed 15th February 2017 Colin Sutherland, Speaker/Subject TBA ; Door Duty, Alistair Thompson & Stewart Wilson
Wed 8th February 2017 Len McIntosh, Speaker Prof. Gordon Walkden/Subject 'Protecting Banchory Heritage' ; Door Duty, Ralph Singleton & Peter Rattenbury
Wed 1st February 2017 Short Business Meeting; Door Duty, Jim Sellens & George Sinclair
Wed 25th January 2017 George Roger, Speaker/Subject: Chris Engel - "2016 Scotland to Canada Rotary Curling Tour" ; Door Duty, Ranald Rennie & George Roger (Followed by a Short Council Meeting)
Wed 18th January 2017 Burns Night ; Door Duty, John Brind
Wed 11th January 2017 Visit from the DG ; Door Duty, Ian Patterson & John Ramsay
Wed 4th January 2017 Business Meeting : Door Duty, Sandy Macdonald & David Rudge
Wed 28th December 2016 No meeting this week
Wed 21st December 2016 No meeting this week
Wed 14th December 2016 Christmas Party; Door Duty Len McIntosh and Ken Lennox
Wed 7th December 2016 Special General Mtg. ; Door Duty, John McGee & Andrew MciLraith
Mon 5th December 2016 2016 Banchory Young Musician Concert

Banchory Rotary"™s Young Musician Competition, run in partnership with Banchory Academy, was held before Christmas for the first time, at Woodend Barn on Monday 5th December. This successful annual competition will continue in 2017.
read more...
Wed 30th November 2016 Linda Franks, Speaker, Linda Franks/Subject, Job Talk; Door Duty , Edwina Keown & John McDonald, (Followed by a Short Council Mtg.)
Wed 23rd November 2016 Andrew MciLraith, Speaker, Judith Wight/Subject, 'Banchory Academy and what lies ahead' ; Door Duty, Jim Gordon & David Holmes
Wed 16th November 2016 ElainSarah Freelove, Speaker, Stuart Fraser/Subject, 'Banchory Area First Responder' ; Door Duty, Chris Engel & Eddie Gillanders
Wed 9th November 2016 Ken Lennox, Speaker, Ken Lennox/Subject, 'High Spots & Low Places of Banchory' ; Door Duty Chris Fry & David Edmunds
Wed 2nd November 2016 Business Meeting (Short) ; Door Duty Jim Dempsie & Raymond Donald
Wed 26th October 2016 Dave Edmonds, Speaker, Jim Ewan/Subject, 'Banchory Rum Distillers' ; Door Duty, Jim Cordiner & Eric Dair , (Followed by a Council Mtg.)
Wed 19th October 2016 Harry McNabb, Speaker, Neil Skene /Subject North East Scotland Sensory Services; Door Duty, Ryan Bond & Geoff Wilkinson
Wed 12th October 2016 John Kaighin, Speaker, Mark Sanders /Subject, 'Antarctic' ;Door Duty, Bob McDowel & Bill Bell
Wed 5th October 2016 Business Meeting; Door Duty, Bill Aitkin & Stewart Park
Wed 28th September 2016 Jim Cordiner, Banchory Academy/Cross-Scotland Challenge; Door Duty, Neil Booth & Ian Burrows, (Followed by a Short Council Mtg.)
Wed 21st September 2016 Peter Rattenbury, Speaker, Peter Rattenbury/Subject, Wood Turning ; Door Duty, Harry McNab & Bob Watt
Wed 14th September 2016 Ian Burrows, Speaker Peter McKenzie/Subject Dunnottar Castle; Door Duty, Reg Wilkin & Alistair Thompson
Wed 7th September 2016 Business Meeting; Door Duty, Geoff Wilkinson & Stewart Wilson
Sat 3rd September 2016 2016 Royal Braemar Highland Gathering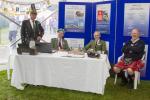 Our club will again be hosting a hospitality area and flying the flag for Rotary.
read more...
Wed 31st August 2016 Jim Dempsie; Fun Quiz; Door Duty, Peter Rattenbury and Colin Sutherland, (Followed by a Council Mtg.)
Sun 28th August 2016 2016 President's Barbecue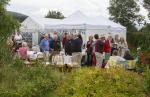 Annual President's barbecue
read more...
Wed 24th August 2016 Sigrid Medley - Tellefsen; Speaker, Mr Terje Stenholt/Subject, The' Norwegian Seaman's Church in Aberdeen' ; Door Duty Ralph Singleton & Ian Taggart
Wed 17th August 2016 Stewart Wilson; Speaker Ian Dow/Subject 'Education in the Gambia Project'; Door Duty Jim Sellens & George Sinclair
Wed 10th August 2016 Eddie Gillanders; Speaker/Subject TBA; Door Duty Ranald Rennie & George Roger
Wed 3rd August 2016 Business Meeting; Door Duty, Sigrid Medley - Tellefsen & Ed Read
Wed 27th July 2016 John McGee; Speaker/Subject TBA; (Followed by a Short Council Meeting); Door Duty Ian Patterson & John Ramsay
Wed 20th July 2016 Ryan Bond, Speaker Basil Johnston/Subject Juliet-Johnston School in Ghana Update; Door Duty Ken Lennox & Dave Rudge
Wed 13th July 2016 Richard Bridger/Subject 'Motoring Quiz 2' ;Door Duty Len McIntosh & Sandy MacDonald
Wed 6th July 2016 Business Meeting & Presidents Hand Over; Door Duty John McGee & Andrew McIlraith