Completed meetings and events 2014-2015
Fri 26th June 2015 Rotary Lunch Meeting
Business Meeting - Rotarians Only
Fri 19th June 2015 Rotary Lunch Meeting
Reid Speirs will give overview of latest website updates
Fri 12th June 2015 Rotary Lunch Meeting
Host, Paul Myers, Speaker - Martyn Plant on Midsomer Art Festival
Wed 10th June 2015 Kids Out
.
Sun 7th June 2015 - Wed 10th June 2015 Rotary Convention
Sao Paulo, Brazil
Fri 5th June 2015 Rotary Lunch Meeting
Host John Padfield, Speaker - Sonia Hutchinson of BANES Carers Centre
Mon 1st June 2015 CLUB ASSEMBLY (members only)
PLEASE NOTE: Meeting venue will be TOWN HALL, MSN
Please confirm your attendance to secretary John Emm.
All Committee Chair persons and office holders are to provide a summary of the planned activities for the coming year
Fri 29th May 2015 NO MEETING
Fri 22nd May 2015 Lunch Meeting ~ Business
Thu 21st May 2015 Club Council
Sat 9th May 2015 District Assembly
Strode College
Fri 8th May 2015 President's Evening 2015

.
Mon 27th April 2015 Club AGM
Centurion
Fri 24th April 2015 Visit of RIBI President Peter King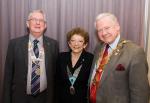 Our club is honoured by the visit of RIBI President Peter King who will join us for dinner at the Centurion and address our members and distinguished guests from other clubs in the district.
Fri 10th April 2015 - Sun 12th April 2015 RIBI Conference
Belfast
Fri 20th March 2015 Charity Talent Showcase
Talent Showcase run in aid of Club Charity Fund.
Rotary Club of Midsomer Norton & Radstock
read more...
Thu 19th March 2015 District Quiz
Frome
Sat 14th March 2015 District Council Meeting
District Meeting at Strode College
Sun 8th March 2015 Rob Porter Rides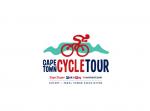 Our Past President Rob Porter travels to Cape Town to make his final entry into this iconic cycling challange in aid of Dorothy House Foundation.
Please give your support at:
www.justgiving.com/R-Porter1/
read more...
Tue 24th February 2015 International Dinner

INTERNATIONAL DINNER
The theme for this latest of our international meals will be French.
Venue will be The Mendip Inn
read more...
Mon 23rd February 2015 Rotary Day
.
Fri 6th February 2015 Race Night
Centurion Hotel
Thu 22nd January 2015 Youth Speaks 2015

St Benedicts School
Fri 19th December 2014 Christmas Lunch
Rotarians and Family guests meet at The Centurion for traditional Christmas lunch celebrations
Wed 17th December 2014 Christmas Carols
Kilmersdon Church
Mon 1st December 2014 - Fri 5th December 2014 SCATTER WEEK
Scatter week, NO Friday meeting at Centurion
Thu 13th November 2014 Donation by President Larry Taylor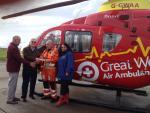 A donation of �3000 was presented to Great Western Air Ambulance by Club President Larry Taylor accompanied by Rotarian and Past President Rob Porter
read more...
Wed 5th November 2014 - Fri 7th November 2014 Poppy Appeal
Royal British Legion Poppy Appeal - Rotarians will assist with the local collection at Tesco, Midsomer Norton
Tue 30th September 2014 District Skittles
Our club plays in the district skittles at Trowbridge
Tue 15th July 2014 Summer Picnic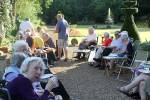 Summer picnic for residents of local care homes
Thu 3rd July 2014 Croquet Evening
Another evening of Croquet has been arranged following much acclaim for the event first staged last year. Family and friends welcome.
future
calendar
district events
local events