Completed meetings and events 2018-2019
Thu 20th September 2018 SGM Accounts
Thu 13th September 2018 Membership
Tue 11th September 2018 Rotary 2 Meeting
Informal business meeting for potential satellite club.
read more...
Thu 6th September 2018 Business
Mon 3rd September 2018 Council at Druids Heath
Mon 3rd September 2018 Club Council
Business meeting, club officers and interested members feedback from committee meetings and discuss future plans.
Thu 2nd August 2018 Spencer Trophy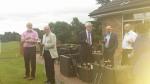 Club putting competition. An evening of fellowship, all members welcome playing in pairs around the putting greens. Will anyone be able to wrestle the trophy from current holder Len.
future
calendar
district events
local events