Completed meetings and events 2017-2018
Thu 23rd November 2017 Club Meeting
Speaker arranged by Ian Mills
Thu 16th November 2017 Club Meeting
Wine Tasting
Thu 9th November 2017 Club Meeting
Speaker arranged by Colin Robertson
Sun 5th November 2017 Tea Party Thank You
Thanks to everyone who attended our fund raiser for MND Scotland. We are currently working out how much we have raised and will post the total soon. We forgot to take any photographs. Sorry
Thu 2nd November 2017 Club Meeting
Business Meeting
Thu 26th October 2017 Club Meeting
Special General Meeting
Thu 12th October 2017 Club Meeting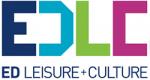 Janice Miller, EDLC Trust Archivist on her job and examples of what is held in East Dunbartonshire's archives.
Sun 8th October 2017 - Sun 29th October 2017 Allander Rotary 2018 Calendar now on sale. Price £5.99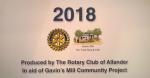 Our 2018 Calendar is now available at Gavin's Mill and Purple Edge at Bearsden Cross. This year's is in support of Gavin's Mill Community Project with pictures from the Milngavie Week 2017 Photography Competition. Montages show photos from the calendar
Thu 5th October 2017 Club Meeting
Guest speaker Douglas MacCaiiman of Doosan Babcock
Thu 28th September 2017 Club Meeting
Special General Meeting
Thu 21st September 2017 Club Meeting
Games Night
Fri 11th August 2017 Paul Harris Award for Bill Freeland

Bill Freeland retires and is presented with a Paul Harris Award by Rotary Club of Allander President Iain Sim
Thu 10th August 2017 Honorary Membership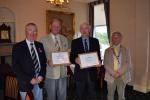 At the formal confirmation of Bill Dudgeon as an Honorary Member, he and Colin Robertson are presented with certificates to record their long service to Rotary and Allander in particular. Bill and Colin are founder members and past presidents.
Thu 27th July 2017 HOLIDAY
HOLIDAY
Thu 20th July 2017 HOLIDAY
HOLIDAY
Thu 13th July 2017 Club Meeting
Speaker Iain Sim
Thu 6th July 2017 Club Meeting
Business Meeting
future
calendar
district events
local events