Completed meetings and events 2017-2018
Fri 16th March 2018 Rotary Club of Blairgowrie Quiz night
The club will again be hosting a general knowledge Quiz night. The format will be teams of four. Friends and family are welcome to come along.
Wed 28th February 2018 Guest Speaker - Drew Scott
Pitlochry Theatre
Wed 21st February 2018 Guest Speaker - Erman Laglaland
PKAVS
Wed 14th February 2018 - St Valentine's Day Dinner
Changed speaker - tba
Wed 7th February 2018 Business Meeting
Reports required from Convenors
Tue 6th February 2018 Primary School Quiz

Rotary Club of Blairgowrie held a successful and well attended primary school quiz on 6th February. Eight schools were represented and Kirkmichael again came out champions and will progress to the District Finals.
Wed 24th January 2018 Guest Speaker- Avril Duncan
Scottish event
Wed 13th December 2017 Christmas Dinner
All members & wives are invited
Wed 6th December 2017 SGM & Business Meeting
President, Secretary & Treasure for 2018/19 to be nominated
Wed 29th November 2017 Weekly Meeting - Guest Speaker : George Annan
George is speaking on Perthshire Brass
Fri 17th November 2017 70th Charter Dinner Celebration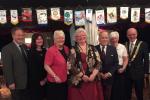 A successful 70th Charter Dinner was held at the Royal Hotel in November 2017.
Wed 1st November 2017 Business Meeting
Discussion of months events
Wed 25th October 2017 Weekly Meeting
Guest Speaker -
Wed 18th October 2017 Weekly Meeting
Guest Speaker - Colin Stewart
Wed 4th October 2017 Business Meeting
First Wednesday each month
Wed 27th September 2017 Club Meeting - Guest Speaker
RYLA - Presentation by Candidates
Wed 20th September 2017 Club Meeting - Guest Speaker
Linda Cummings - Wiltshire Farm Foods
Wed 13th September 2017 Club Meeting - Guest Speaker
Bob Ellis - The Cateran Trail
Wed 6th September 2017 Business Meeting
First Wednesday each month
Wed 30th August 2017 Teen Ranch - Inture - in place of Rotary Meeting
Wed 23rd August 2017 Summer Social Meeting : Dinner
Wed 16th August 2017 Summer Social Meeting : Dinner
Wed 9th August 2017 Summer Social Meeting : Dinner
Wed 2nd August 2017 Business Meeting : Dinner
future
calendar
district events
local events