Completed meetings and events 2017-2018
Tue 12th December 2017 Christmas Party
Tue 5th December 2017 Christmas Tree Washup
Sat 2nd December 2017 Christmas Tree Lighting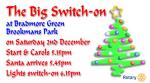 Come and see the lights turned on at Bradmore Green, Brookmans Park. Mince pies, mulled wine and hot chocolate. Big switch on with Christmas Carols and panto celebrities.
Tue 28th November 2017 Foundation Meeting with Potters Bar club
A presentation on the Water Survival Project by Chelwood Bridge RC, Somerset. At Potters Bar Golf Club.
Tue 21st November 2017 Meeting with St Albans Verulamium club
Tue 14th November 2017 Club Assembly Review
Tue 7th November 2017 Fireworks Washup
Sat 4th November 2017 Fireworks Display

Our Firework Display has become a local tradition for all. Fireworks, bonfire, burgers, hot dogs and licensed bar come along and enjoy the evening. Advance ticket sales at John Powell Carpets, Potters Bar and Statons Estate Agents, Brookmans Park
read more...
Thu 2nd November 2017 Youth Speaks Competition
Encouraging young people from local schools to develop their public speaking and presentation skills.
Tue 31st October 2017 Meeting /Fellowship
Tue 24th October 2017 Event Planning
Tue 17th October 2017 Meeting /Fellowship
Tue 10th October 2017 Meeting /Fellowship
Tue 3rd October 2017 Speaker - David Silverston
David, from Watford Rotary Club will tell us about "Save a Child's Heart"
Sat 30th September 2017 Mount Grace 7-a-side Football Tournament
Local primary schools take part in a 7-a-side football tournament. Prizes sponsored by our club.
Tue 26th September 2017 Meeting /Fellowship
Tue 19th September 2017 Speaker - Neil Kirby
Neil will update us on the Red Rubber Ball projects
Tue 12th September 2017 Speaker - District Governor Cheryl Law
Cheryl will come and talk to us about her goals for her year.
Tue 5th September 2017 Speaker - Claire Robinson
Claire will talk to us about the Herts & Middlesex Wildlife Trust and its work.
Fri 1st September 2017 - Sun 3rd September 2017 District 1260 Rotary Youth Leadership Award
Team Building, Leadership, Decision Making, Problem Solving, Confidence
Tue 29th August 2017 Speaker from Changing Faces
The speaker will tell us about the work of this charity that helps people with facial disfigurements.
Tue 22nd August 2017 Speaker - John Connell editor of Potters Bar Community News
John will be telling us about the newsletter
Tue 15th August 2017 Tour of Capel Manor College
Steve Dowbiggin will give us a tour of the college and gardens.
Tue 8th August 2017 Meeting /Fellowship
Tue 1st August 2017 Meeting /Fellowship
Tue 25th July 2017 Minor Sports Evening
Tue 18th July 2017 Meeting /Fellowship
Tue 11th July 2017 Event Planning
Sat 8th July 2017 Northaw & Cuffley Villages Day
Tue 4th July 2017 John's Induction
future
calendar
district events
local events