Completed meetings and events 2016-2017
Wed 28th June 2017 2017 Handover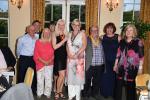 The 2017 Handover saw Amanda take up her position as the President of Thorpe Bay Rotary for the year 2017/2018. Rotarians and friends enjoyed a super evening at the Lawn, Hall Road, Rochford.
read more...
Wed 21st June 2017 Club Assembly
Wed 14th June 2017 Raft Race -Final Briefing
Wed 7th June 2017 Susannah Anderson - SOS Domestic Abuse
Wed 24th May 2017 Ade Butteriss - Essex Search & Rescue
Wed 17th May 2017 A Good Old Fashioned Natter with Friends Old & New
Wed 10th May 2017 Club AGM
Wed 3rd May 2017 Speaker Simon Deacon - Southend Old & New
Wed 26th April 2017 Speaker Roy Rutter - Mary's Meals
Wed 19th April 2017 Fellowship - A Good Old Fashioned Natter for Members and Guests
Wed 12th April 2017 Forum - A chance to catch up on what is happening in the Club
Wed 5th April 2017 Speaker - Simon Deacon on Southend Old and New
Wed 22nd March 2017 Speaker Meeting - Dr Judith Bunbury
A talk on recent discoveries in the Theban Region of Egypt
Sat 18th March 2017 Quiz Night
Please come and support our latest Quiz Night taking place at Trinity Sports & Social Club, Garons Park, SS2 4FA with proceeds from the night going to Medecins Sans Frontieres. Fun, fellowship and some gentle exercise of the grey matter
read more...
Wed 15th March 2017 Fellowship
Wed 8th March 2017 Members Forum
An update of all club activity
Wed 1st March 2017 Speaker Meeting - Roy Rutter on Tax Talk
Wed 22nd February 2017 Speaker Sophie Price from Medecins Sans Frontieres
Wed 15th February 2017 Fellowship Meeting
Wed 8th February 2017 Members Forum
Wed 1st February 2017 Speaker - David Fairweather Southend Hospital Dementia Appeal
Wed 25th January 2017 Speaker - John Cooper Profile
Wed 18th January 2017 Fellowship Meeting
Wed 11th January 2017 Council at Forum
Wed 4th January 2017 Speaker Meeting - Chris Bailey
Sun 11th September 2016 Foulness Island Bike Ride
We are delighted that once again we are able to offer the opportunity on Sunday 11th September 2016 to cycle on this lovely local island that cannot normally be entered without a special pass.
read more...
future
calendar
district events
local events