Completed meetings and events 2019-2020
Thu 17th October 2019 Local Novelist
Speaker Stephen Place
Fri 11th October 2019 - Sun 13th October 2019 Rotary Conference

Our biggest ever turnout this year at the Rotary Conference in Scarborough.  There was an interesting and very poignant programme which really brought home the vast need there is in the world and the necessity for Rotary to continue to do their bit. 
Thu 10th October 2019 Speaker Ben McKenna

Recycle your laptops, tablets and phones, If you are like me you never know what to do with your laptops, tablets and phones when they are no longer needed.  Solidaritech based in Bradford will make really good use of the them by helping Refugees.
Thu 3rd October 2019 Toastmasters - where leaders are made

Phil Cavalier-Lumley came to talk to us about Bradford Speaks, a speaking club aiming to become part of Toastmasters International, the world's largest public speaking club network.  Phil explained how people from quite varied backgrounds feel the need to
Thu 26th September 2019 Helping tomorrows inventors find creative solutions to climate change

Building a Creative Nation, speaker Sarah Mumford
Tue 24th September 2019 26th Charter

26th Charter at the Midland Hotel
Thu 12th September 2019 Forget Me Not Children's Hospice

Alison Parker from the Hospice and Ann came to tell us about the work of the Hospice which is in Huddersfield but serves the whole of West Yorkshire.
Thu 5th September 2019 RYLA 2019

Our RYLA participant Charlie Platts came to tell us all about his adventures at Hebden Hey as part of the training programme for the Rotary Youth Leadership Award.
Thu 15th August 2019 Think Blue Green for Sustainable Urban Infrastructure

We enjoyed a thought provoking talk by Rotarian Professor Crina Oltean-Dumbrava who is the Chair of Sustainable Built Environment, Faculty of Engineering & Informatics, University of Bradford
Thu 25th July 2019 This place we call home

Darren has been exploring the different ways the City of Bradford and Rotary are rising to the task of tackling our environmental challenges
Thu 18th July 2019 Paul Breeze Award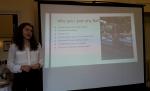 Estella applied for some funding from our Paul Breeze Award.
Thu 11th July 2019 Jacqui's Million

Jacqui's Million, the main charity for this year's President
future
calendar
district events
local events