Completed meetings and events 2013-2014
Mon 30th June 2014 7:30pm Handover
Mon 16th June 2014 7:30pm Activity - NB/SH
Activity - Nick Blunt & Steve Hupfield to organise
Mon 9th June 2014 7:30pm Speaker - NT
Speaker Neil Trigwell to arrange
Mon 2nd June 2014 7:30pm AGM / Club Assembly
Mon 26th May 2014 Bank Holiday - No Meeting
Mon 12th May 2014 7:30pm Business Meeting / Council
Mon 5th May 2014 Bank Holiday - No Meeting
Mon 21st April 2014 Bank Holiday - No Meeting
Mon 7th April 2014 7:30pm Business Meeting
Mon 3rd March 2014 7:30pm Tony Doyle from DACT
Jonathan has arranged for Tony Doyle from DACT to be our speaker
Mon 3rd February 2014 7:00pm Business Meeting / Council
Tonight's Business Meeting is to be combined with a speech from Robert Trigwell. Robert will be talking to us about his life around the Refugee Camps in and around Syria. This promises to be a very illuminating speaker.
Mon 6th January 2014 7:30pm Business Meeting
Mon 4th November 2013 7:30pm Business Meeting
Wed 9th October 2013 District Quiz
District Quiz at Wellingboro Golf Club
Mon 7th October 2013 7:30pm Business Meeting / Council
Thu 3rd October 2013 Club Subs Meeting
Meeting to discuss how Subscriptions and Meal Costs should be managed
Thu 19th September 2013 Membership Committee Meeting
Meeting to discuss Membership and what we are going to do about it.
Tue 3rd September 2013 - Mon 16th September 2013 16th September Meeting
Meeting attendance
Sat 31st August 2013 President's BBQ
President Steve and His wife Jan invite members to a BBQ
Mon 26th August 2013 Bank Holiday - No Meeting
Mon 5th August 2013 7:30pm Business Meeting
Mon 29th July 2013 President and V.P. Entertain
President and President Elect entertain Members and Partners with a "Guess Who" evening. Think of something that is about you that others won't know. Perhaps an ancestor was a Famous Highwayman or are related to a member of the Royal Family. Whatever it i
Mon 22nd July 2013 Grange School - Rotary Stars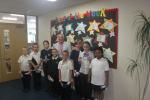 Presentation of Rotary Stars
read more...
Mon 8th July 2013 7:30pm District Council Meeting
Mon 1st July 2013 7:30pm Business Meeting / Council
future
calendar
district events
local events