Completed meetings and events 2013-2014
Tue 24th June 2014 7.30 a.m - Business Meeting
Tue 17th June 2014 7:30am Meeting - Naji Malak - At Ease - Naji will talk about a new charity which he is creating.
Naji will talk about his experience in helping with service men and women suffering from Post Traumatic Stress.
Tue 10th June 2014 7:30am Meeting - John Barnard - Furniture Designer
John Barnard will talk about his 40 years as a creative and furniture designer.
Tue 3rd June 2014 7:30am Meeting - Ginny Seppings - Ormiston
Ginny will explain the work of Ormiston which is improving the lives of young people in Norfolk and Suffolk.
Tue 27th May 2014 7.30 a.m - Business Meeting
Tue 20th May 2014 7:30 a.m - Ian Elliott. Job talk
New (to Blackfriars) member Ian Elliott will talk about himself and his job.
Tue 13th May 2014 7.30 a.m - Daniel Williams. Chief Executive Big C
Dan is CEO of Big C and will talk about its history and the plans for the future.
Tue 6th May 2014 7:30 a.m - John Minns
Rotarian John Minns is going to update the club with news of his grandson Leo and his experiences in Sri Lanka.
Tue 29th April 2014 Speaker - Rod Spokes. The Great War - How it started.
Rod will continue with his talks to commemorate the start of The Great War. This week he looks at how it started and what happened.
Tue 22nd April 2014 7:30am - Business Meeting
Tue 15th April 2014 7:30am Meeting Speakers James and Stephanie Wagg. The Great War.
Club member James and his daughter Stephanie will present her project which researched a possible Norfolk born ancestor and his life during World War One.
Tue 8th April 2014 7:30am Meeting - Speaker John Joyce - 40 years as a Highwayman
John will talk about his career on Norfolk's roads.
Tue 1st April 2014 7:30am Meeting - Speaker - Darren Grice - Chief Executive of The Garage
Darren will talk about his role as Chief Exec of The Garage theatre and studio in Chapelfield.
Tue 25th March 2014 7.30 am - Business Meeting
Tue 18th March 2014 7:30 am Meeting - Giles Massingham - Oakleigh Watches
Giles buys,sells and sources watches for all types of customer. He will tell the story of some of the more remarkable watches he has encountered.
Tue 11th March 2014 7.30 am Meeting - Bruno Lorenco
Bruno is known to all of our members as an excellent organiser of our breakfast at The Maids Head. But how much do we know about him? Bruno is going to tell us what brought him to Norwich and his thoughts about his new home.
Tue 4th March 2014 7:30 am Meeting - Danny Wilcox - SERV
Service by Emergency Response Volunteers. Danny will talk about his voluntary organisation which transports blood and plasma in emergencies.
Tue 25th February 2014 Business Meeting
Tue 18th February 2014 Eddie Elmhirst - A Life in TV
Eddie worked as a Sound Technician with Thames TV and Anglia TV during his career in television.
Tue 11th February 2014 Steve Bloomfield - Clinical Commissioning
Steve will talk about the new world of Clinical Commissioning Groups in the Health Service and how they will work.
Tue 4th February 2014 Mark Overton - Offbeat Lounge
Mark is a collector and publisher of iconic photography of the worlds biggest rock stars.
Wed 29th January 2014 Visit to NAS Seething Observatory
Tue 28th January 2014 Business Meeting
Tue 21st January 2014 William Armstrong - Former Coroner for Norwich
William will talk about his life as coroner for Norwich following his recent retirement.
Tue 14th January 2014 Peter Hawes - Broadland Experience
Peter is a member of Bure Valley R.C and explains the experience of under priveleged youngsters from urban areas in the countryside.
Tue 7th January 2014 Rod Spokes - Norwich during The First World War
Club member Rod Spokes will speak about the impact of The Great War on Norwich at the beginning of a year which commemorates 100 years since its outbreak.
Tue 31st December 2013 No Meeting
Tue 24th December 2013 No Meeting
Tue 17th December 2013 7:30am Business Meeting
Tue 10th December 2013 Alex Casey - Suffolk Artlink
Fri 6th December 2013 Charter Evening and Christmas Meal
Evening at the Library Restaurant (part of the Raffles Group). With partners and guests and with speaker Simon Nicholls.
Tue 3rd December 2013 John Hay - Outside Broadcasting of Motorsport
Tue 26th November 2013 Business Meeting
Tue 19th November 2013 Ellie Fairfoot - Volunteering in rural India
Tue 12th November 2013 Peter Harrison - Bloodhound SSC
Tue 5th November 2013 Lord Mayor of Norwich - Councilor Keith Driver Lord Mayors Consort - Mrs Lin Driver
Tue 29th October 2013 Tour of Police HQ, Wymondham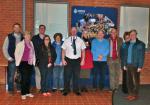 Our October 5th Tuesday was spent at the Police HQ Wymondham having a tour of the Operations room with question and answer session led by Jack Askew and Michelle Tubby.
Tue 22nd October 2013 Business Meeting
Tue 15th October 2013 Frances & Mike Holmes - The Norwich Shoe Trades
Wed 9th October 2013 7.30 pm Fashion Show at Walkers
Tue 8th October 2013 David Ferris - Restorative Justice
Tue 1st October 2013 Peter Thomas - MG Owners Club
Tue 24th September 2013 Business Meeting
Tue 17th September 2013 Julie Deadman - Racehorse Owner
Tue 10th September 2013 Mette Ohrvik - Sue Lambert Trust
Tue 3rd September 2013 Ed O'Rourke - Running a modern law firm
Tue 27th August 2013 Business Meeting
Tue 20th August 2013 James Thomas - Social networking
Tue 13th August 2013 Peter Scott - Housing
Tue 6th August 2013 Angela Gifford - Community Care 1601-2013
Tue 23rd July 2013 Business Meeting
Tue 16th July 2013 Rosalie Weetman - The Matthew Project
Tue 9th July 2013 Roger Wood - Family Chriropractic Centre
Tue 2nd July 2013 New Rotary Year - Handover
future
calendar
district events
local events