Completed meetings and events 2017-2018
Mon 19th February 2018 - Rob Nicholls to talk on 'The Funeral Business'
Rob will include some lighter hearted experiences in his talk.
Mon 5th February 2018 - Mon 12th February 2018 Business Meeting at the Kings Arms
Mon 22nd January 2018 - Presentation on the International Scout Jamboree in Sweden
Harrison Milward and Jamie Coupland will give a presentation on this event which they attended in the summer of 2017 with a contribution from the Rotary Club.
Mon 8th January 2018 Business Meeting at The Royal Oak
Mon 27th November 2017 - Visit of Rotary District Governor Carol Reilly 27th November 2017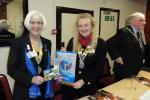 Meeting held at 7.30pm at the Royal Oak, Eccleshall
Mon 20th November 2017 - Training for Santa Sleigh helpers
at Royal Oak
Mon 13th November 2017 Business Meeting
Sat 28th October 2017 - End Polio Collection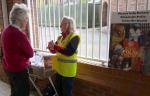 Many thanks to those kind people who contributed to the Rotary 'End Polio' collection in Eccleshall on Saturday which amounted to £263 before enhancement through Gift Aid tax relief, and the tripling of the amount by the Bill & Melinda Gates Foundation
read more...
Mon 23rd October 2017 - Talk by Jonathan Barton of Staffordshire & West Midlands Army

read more...
Mon 9th October 2017 Business Meeting
Mon 2nd October 2017 Health & Safety issues
ensuring that we comply when carrying out activities
Sat 16th September 2017 Yarnfield Fete - Hook a Duck Stall
Volunteers needed
Mon 11th September 2017 Business Meeting
Mon 28th August 2017 No meeting on this bank holiday Monday
Mon 21st August 2017 V Fest Tent collection 21st August 2017
At Weston Park - volunteers needed to recover good quality larger tents for reuse.
read more...
Mon 14th August 2017 Business Meeting
at the Royal Oak as usual
Mon 24th July 2017 - Talk by Neil Pedersen, of Blythe Bridge Fire Service. 24 July 17

Neil will talk on the work of the Fire Service, the Seshaa organization, and hopefully to also demonstrate a Fireman's lift.
read more...
Mon 10th July 2017 Business Meeting
Mon 3rd July 2017 'Handover' Meeting
for the handover of the Club Presidency to the new President Sylvia Keris for 2017/18. Members & Guests welcome, names to Hilary please.
future
calendar
local events