Completed meetings and events 2017-2018
Fri 19th January 2018 Burns Night Celebration

Six days early (!), we will return to the White Kirk in Comrie (1830 for 1900) to celebrate the birth of Robert Burns with another superb meal and suitable entertainment. More details in due course.
Tue 16th January 2018 Rotary International and Foundation discussion

An essential Club debate on how we should progress with our support for Rotary worldwide and especially its important 'Foundation' charity.
Tue 9th January 2018 Narrow gauge railway video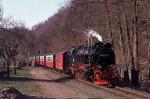 Due to illness, our scheduled speaker Ben Dolphin is unable to attend. In his place, Club Secretary Callum MacLeod will show a 15 minute film he made, featuring narrow-gauge steam trains in eastern Germany and South Wales.
Tue 2nd January 2018 No meeting this week
New Year's holiday period
Tue 26th December 2017 No meeting this week
Boxing Day holiday
Tue 19th December 2017 Business Meeting / Mid Term Review

Monthly (at Yann's)
Tue 12th December 2017 Christmas Party

Partners welcome!
Pre-booked attendance only. 1830 for 1900. Price £25 per person. See 'DETAILS' to download the menu choices (to be notified directly to Yann).
Musical entertainment by John Boyd. The selection of songs has been chosen by members.
read more...
Thu 7th December 2017 Home 'Gavel' match

Was held at Strathearn Community Campus, Pitenzie Road, Crieff.
Second round match against Aberfeldy RC.
Tue 5th December 2017 Macmillan Cancer Support

Ailsa, who is head of fundraising for Macmillan in the Tayside region, will be explaining the valuable role this charity plays in caring for those affected by cancer.
Tue 28th November 2017 The Butterfly Trust and Cystic Fibrosis in Scotland

Helen Tew
From this Edinburgh-based Trust, we will once more hear of the work being done to support those in Scotland who are suffering from the debilitating illness that is cystic fibrosis.
Sat 25th November 2017 Strathearn Campus Christmas Fayre
read more...
Tue 21st November 2017 SGM
Special General Meeting, to be held at Yann's
Tue 14th November 2017 Alastair Robertson inaugural

Alastair has recently joined our ranks from the Rotary Club of Rothesay and will tonight outline some of his background and previous Rotary experience.
Mon 13th November 2017 Rotary Young Chef Competition

The first round of the 2017 competition was held in the Strathearn Community Campus, Pitenzie Road, Crieff.
read more...
Tue 7th November 2017 Meccano

Alan Blair (President, Meccano Association of Scotland)
As children, many of us must have enjoyed building amazing gadgets out of this versatile material. With at least two working models on display, this could be an evening of sheer nostalgia for many!
Tue 31st October 2017 Paul Harris Fellow

Crieff Rotary Club Members were delighted to award long serving fellow member, David Crosbie with a Paul Harris Fellowship to recognise his contribution to Rotary over the years.
Tue 31st October 2017 Raleigh International - Nicaragua

Loukia (Lulu) Morari
RC Crieff helped sponsor Lulu's 3-month volunteering trip to Nicaragua with Raleigh International and we will now learn how well this time was spent.
Tue 24th October 2017 Business Meeting

One week late due to Scatter Week opportunity. Venue is the Deil's Cauldron in Dundas Street, Comrie as Yann's will still be closed.
Tue 10th October 2017 Sailors' Society

Becky Haldane
Founded in 1818, the Sailors' Society is a Christian charity supporting and caring for seafarers. Present at many ports around the world, its chaplains and volunteers assist many sailors through friendship, charity and pastoral care.
Tue 3rd October 2017 New Rotary Member

Crieff Club members were delighted to introduce Debbie Matthew as a new member of the Rotary Club.
Tue 3rd October 2017 Bob Milne

Inaugural address to Rotary Club of Crieff
Bob recently joined our ranks from the Rotary Club of Peebles and this will be his first personal introduction to his new Rotarian colleagues.
Tue 26th September 2017 Rotary Young Chef

AG District 1020, Ken Robertson, Rotary Club of Cumbernauld
Youth Services Chair District 1020, Margaret Marquis (YC Coordinator)
IPP Rotary Club of Cumbernauld, Elizabeth Robertson
read more...
Sat 23rd September 2017 Crieff Community Garden Tidy-up

A few Club members spent a couple of hours down at Crieff Community Garden assisting with an Autumn tidy-up.
Tue 19th September 2017 Business Meeting

Monthly (at Yanns)
Tue 12th September 2017 RYLA Camp 2017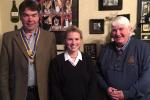 Catriona Roberts (our successful 2017 Rotary Young Leadership Award candidate) will tell us about her experiences, including July's RYLA camp at Abernethy in Strathspey.
read more...
Tue 5th September 2017 Crieff Juniors Football Club

John Myles
The Rotary Club of Crieff is proud to have sponsored the new strip now worn by the youngsters in this energetic football team.
Tue 29th August 2017 New Member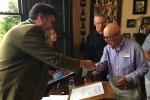 Crieff Club welcomed fellow Rotarian, Alastair Robertson as a member of Crieff club following his relocation to the area.
Tue 29th August 2017 Crieff High School - Equalities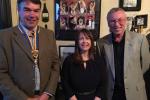 Linda Birrell - Acting Depute Headteacher
Linda intends to speak about 'Equity and The Scottish Attainment Challenge'.
Tue 22nd August 2017 Malawi Fruits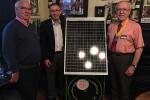 Kevin Simpson, Executive Director
Malawi Fruits is a Scottish Charity committed to working with its partners in Malawi to establish and grow sustainable community businesses in the north of that country.
Tue 15th August 2017 Business Meeting
Monthly
Tue 8th August 2017 Cultybraggan - WW2 to present day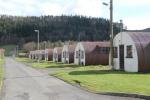 Jack Birrell
From its darker days as a POW camp for Nazi SS prisoners to its present facility for local enterprises, Cultybraggan has long been an important part of the Comrie community.
Thu 3rd August 2017 Charity Golf Am/Pm Competition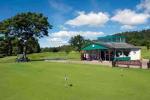 Crieff Rotary Club's Annual Golf Day for Charity.
Location all day will be the Crieff Golf Club on Perth Road, Crieff, PH7 3LR.
read more...
Tue 1st August 2017 Golf Day Logistics
Final Plan for Golf Day 3 August
Lindsay & George
Tue 25th July 2017 Dementia Services Development Centre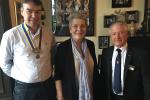 The work of DSDC at University of Stirling
Pauline Cameron
Sat 22nd July 2017 Comrie Fortnight

Comrie Fortnight Saturday Stall
Details from David McLeod
Tue 18th July 2017 Bowling night at Comrie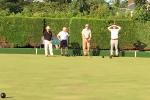 Bowling with Round Table at Comrie Bowling Club
Followed by BBQ at Deil's Cauldron
No Business Meeting
Tue 11th July 2017 - Thu 20th July 2017 The Queensferry Crossing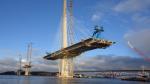 Alastair Templeton
At Deil's Cauldron Comrie
Tue 4th July 2017 Addition to the Club's Membership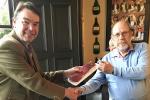 Robert Milne becomes a member of Crieff Rotary Club
read more...
Tue 4th July 2017 Stroke Awareness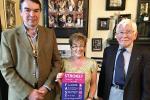 Debbie Matthew.
Also stroke victim Miss Henrietta Donaldson visiting.
Debbie has since joined Crieff Rotary Club!
future
calendar
district events
local events