Completed meetings and events 2017-2018
Sun 12th November 2017 Remembrance Sunday
Marshalling for the parade - times to be confirmed
Wed 8th November 2017 Speaker: Alan Atkinson - War Memorials
Wed 25th October 2017 Club Business Meeting
Thu 19th October 2017 Haddon Hall Home Entertainment
Times to be confirmed
Wed 11th October 2017 Speaker Lucy Ball (Buxton Advertiser) - A Reporter's Report
NB: Meeting at the Cavendish Golf Club
Fri 29th September 2017 "Thank you evening" from Kath and Andrew
Meet at Cavendish GC
Fri 29th September 2017 - Sun 1st October 2017 District 1220 Annual Conference (Llandudno)
Registration held at £40!
read more...
Wed 27th September 2017 Speaker Ben Milner - Intrepid Beers
Wed 13th September 2017 Speaker: Cary Hadfield - Project Manager for the Crescent.
Sat 26th August 2017 Methodist Church Bric-a-Brac sale 2017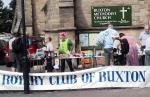 Bank Holiday weekend Bric-a-Brac a great success! £203.85 for our Club's Charitable Trust Fund. Well done Howell and helpers. We think Howell's hat was the crowd magnet!
Sat 26th August 2017 Methodist Church Bric-a-Brac sale 2017
Saturday August 26th:
Please take Bric-a-Brac to Howell's house
Wed 23rd August 2017 Speaker: Rtn Lyn Noble - The Coal Mines of Buxton
Wed 9th August 2017 Scatter Night - Visiting Other Rotary Clubs
Wed 26th July 2017 VENUE: Cavendish Golf Club: Speaker: Rtn Ian Priestley - Foundation its role
Wed 12th July 2017 VENUE: Cavendish Golf Club: Speaker: Rtn Mike Hardman Developing a Medicine
future
calendar
district events
local events