Completed meetings and events 2017-2018
Mon 16th October 2017 Quiz - In-house
Mon 9th October 2017 Tax, Care and Toy Boys. Roderick Barr.
Mon 2nd October 2017 DG. Robert Lovick + Business
Mon 25th September 2017 Sharon Worton – RSPCA/Block Fen
Mon 18th September 2017 Corum Adoption Support Agency

Steph Foreman and her colleague Lori Barton with President Don
read more...
Mon 11th September 2017 Fenland aviation museum (Tour around)
visit to Aviation Museum.- Starts at 6:00pm and return to Con. Club for evening meal. Ladies/partners invited.
Venue is - Old Lynn Rd, Wisbech, PE14 7DA
Sat 9th September 2017 Charity Cream Tea Party

Supporting PolioPlus
Mon 4th September 2017 Business
Mon 28th August 2017 BH no meeting
Mon 21st August 2017 John Shaw - Pt3 Edward & Mrs Simpson

read more...
Mon 14th August 2017 Business meeting
Mon 7th August 2017 P Visit to Tolthorpe
Mon 31st July 2017 Speaker
Mon 24th July 2017 Indoor Bowls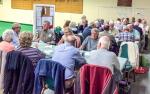 Enjoying the meal after a hard day's bowling!
Mon 17th July 2017 Speaker Rob Skoulding, defibrillators.

Alan Blower and Rob Skoulding
read more...
Mon 10th July 2017 P Sally Dearman - Flying Ladies
Mon 3rd July 2017 Business
future
calendar
district events
local events