Completed meetings and events 2019-2020
Fri 23rd August 2019 No Meeting - 4th Friday
Wed 21st August 2019 Riverside: Social meeting
Fri 16th August 2019 Lunch: Mike JENKINS. DG FRANK QUINN Visiting
Wed 14th August 2019 Riverside: Business meeting and Club casual meeting
Mon 12th August 2019 Club Board Meeting

The second Board Meeting
Fri 9th August 2019 Lunch:John THOMPSON
Wed 7th August 2019 Riverside: Social meeting
Fri 2nd August 2019 Lunch: Jes CHRISTIANSEN.
Wed 31st July 2019 Riverside: No meeting 5th Wednesday
Tue 30th July 2019 Scatter meeting at Vesper
Contact Peter CLARKE for details
Fri 26th July 2019 No Meeting - 4th Friday
Wed 24th July 2019 Riverside: Business meeting and club casual meeting
Fri 19th July 2019 Lunch: Rod Hunt
Wed 17th July 2019 Croquet match: Albert park
Sun 14th July 2019 President's At Home

President Peter hosts the annual social event at the Long Gallery, Abbey Buildings
read more...
Sat 13th July 2019 Rotary in the Marketplace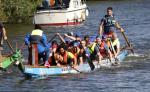 Rotary in Abingdon - volunteers from all the Abingdon Rotary Groups, working together to attract more people to join us in celebrating the great things we do.
read more...
Fri 12th July 2019 I might have been Australian: Rod HUNT
read more...
Wed 10th July 2019 Riverside: Business meeting and Club casual meeting
Fri 5th July 2019 Buffet lunch: My Rotary meeting
Wed 3rd July 2019 Riverside: Social meeting
future
calendar
district events
local events