Completed meetings and events 2018-2019
Wed 5th December 2018 Come and meet Santa in his Grotto

Come and meet Santa in his grotto on Wednesday 5th December @ Lighting Matters 6.30pm to 8.30pm £3.50. All proceeds to local charities.
Sun 19th August 2018 The Clubs' Annual Golf Competition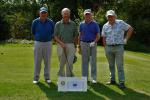 The Clubs' Annual Golf Competition was held at Chartridge Park Golf Club on
Monday, 13th August. Nine competitors took part and it was won, for the second year running,
by Pash Bharania, with a magnificent score of 41 points.
Wed 8th August 2018 A Record Classic Car Show on Wednesday 8th August.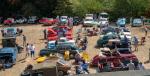 Everything came together for this year's Classic Car Show!
Tue 24th July 2018 Annual OAP BBQ

Photos from our annual OAP BBQ, kindly hosted by Phil and Reg Larman.
future
calendar