Completed meetings and events 2017-2018
Mon 26th February 2018 22nd Annual Jaipur Dinner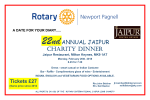 All are invited to the 22nd Annual Jaipur Dinner in Aid of the Rotary supported Jaipur Limb Project at The Renowned Jaipur Restaurant in Central Milton Keynes. Tickets £27 (No change from previous years)
read more...
Wed 16th August 2017 Fellowship Meeting
Including presentation of cheque for £4,000 to Willen Hospice.
Wed 9th August 2017 Ride High MK
A presentation by Rachel Medhill about the work of the charity Ride High in Milton Keynes.
read more...
Wed 2nd August 2017 Operation Raleigh to Nicaragua
A talk by Jessica Vale about her experiences with Operation Raleigh in Nicaragua.
read more...
Wed 26th July 2017 Business Meeting - Members Only Please
Discussion of projects, social events and club administration.
Wed 19th July 2017 Memories of Concorde
Presentation by Rotarian Neil Beeton on flying at Mach 2 in Concorde
read more...
Wed 12th July 2017 Adventure to India
Talk by Barbara Middleton and Alan Rice-Smith about their experience taking part in mass immunisation against polio of 170M children in India
read more...
Wed 5th July 2017 Club Assembly and Presidential Handover
Members Only Please
future
calendar
district events
local events