Completed meetings and events 2019-2020
Wed 13th November 2019 SGM and Business meeting
.
Wed 6th November 2019 The Legendary Leith Smacks - Eric Graham
.
read more...
Wed 30th October 2019 Race night at The Grey Horse, Balerno
.
Wed 23rd October 2019 Ronald McDonald House Charities - Robyn Lang & The charity IMAGINATE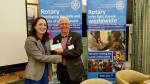 President Lindsay presents a cheque to Molly Goyer-Gorman
read more...
Mon 14th October 2019 - Fri 18th October 2019 Scatter week
.
Wed 9th October 2019 A Forth Pilot's Life - Paul Wibberley
Image Wikipedia
read more...
Wed 2nd October 2019 Global challenges – Dr Martin Smith MBE, Science Director, British Geological Survey
The Sustainable Development Goals and how geology can make a difference
read more...
Wed 25th September 2019 Sarnia Cherie – a short introduction to Guernsey - Steve Richer
Photo Wikipedia
read more...
Wed 18th September 2019 Do you know what's under your feet? - Clive Waghorn
.
read more...
Wed 11th September 2019 Foster Care - Ailsa Thom - postponed because of illness
.
Wed 4th September 2019 Nazareth Trust - Susanne Horsburgh
.
read more...
Wed 28th August 2019 Visit by District Governor - Jo Pawley

.
read more...
Wed 21st August 2019 Job Talk - Colin Aspinall

.
read more...
Wed 14th August 2019 Business Meeting & talk on a water treatment project in Mexico
.
read more...
Wed 7th August 2019 Funding Recipient Sarah Mc Arthur

MY JOURNEY FROM BALERNO TO KABUL AND WHERE I'M GOING NEXT"
Sarah receives a cheque from President Lindsay  
read more...
Wed 31st July 2019 Multiple Sclerosis society - Mark Colley-Davis
Duncan presents cheque to Mark
read more...
Wed 24th July 2019 Fun Games NIght
cards, draughts, dominoes, Connect4, Kerplunkk, Jengoe etc
Wed 17th July 2019 APS Support - Phil Godfrey
.
Wed 10th July 2019 End Polio Now Ken Logan

.
read more...
Wed 3rd July 2019 Modern Dentistry - Brian Clough
.
future
calendar
local events