Completed meetings and events 2017-2018
Sat 22nd July 2017 The Ripley Event - 22 July 2017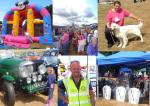 The Best FREE Entertainment in Surrrey
read more...
Tue 18th July 2017 Job Talk - From Handbags to Golf in Spain

A Job Talk by Ian Pearce. Ian spent most of his life working as an Accountant with Jane Shilton Handbags. However since retiring he has started to enjoy the sun and golfcourses of Spain
Tue 11th July 2017 Joint Council & Business Meeting
Our first Business & Council Meeting under or new President
Tue 4th July 2017 Putting at Clandon Regis for the Canada Plate
A chance to take on the Clandon Regis Putting Green followed by a Buffet meal at Clandon Regis.
Knowledge of the Rules of Golf are NOT required!!
future
calendar
district events
local events