Completed meetings and events 2018-2019
Wed 17th October 2018 SW Surrey and Boarders Parkinson's
A presentation by Valerie Box
Wed 10th October 2018 Councillor Will Forster
Mayor of Woking
Wed 3rd October 2018 Business Meeting
Discussion on current club projects and activties
Wed 26th September 2018 Purple Community fund
A presentation by Jan Walker
Wed 19th September 2018 Rotary GDPR +
A briefing by Rotarian Kevin Mack from Rotary District 1145
Wed 12th September 2018 Charity Golf day
West Byfleet Golf club.
Wed 5th September 2018 TBA
TBA
Wed 29th August 2018 Social evening
..
Wed 22nd August 2018 Purple for Polio Grand Tour
Club member Peter Kleyn will talk on this Rotary publicity and fund raising event
Wed 15th August 2018 Sally Gardiner - Genealogy
Venue - Double Tree by Hilton Woking
Wed 8th August 2018 Little Roo Neonatel fund
This fund helps to provide additionla facilities for the baby care unit at St Peters Hospital.
Wed 1st August 2018 My job talk - Shuile Syeda will talk to us about her job
Venue - Sutton Green Golf club
Wed 25th July 2018 Prestige Lecture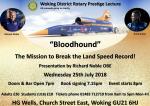 Prestige Lecture, "Bloodhound" the attempt to break the Land Speed Record" by Richard Noble OBE.
read more...
Wed 18th July 2018 Business Meeting
...
Wed 11th July 2018 Rotary Briefing
Kevin Mack District 1145 Complience Officer
future
calendar
district events
local events