Completed meetings and events 2018-2019
Mon 15th October 2018 No Meeting - Scatter Week
Mon 8th October 2018 Lunch Meeting
Mon 1st October 2018 Business Meeting, Committees at 6.45 pm
Mon 24th September 2018 Lunch Meeting
Fri 21st September 2018 Horse Racing Night

A Night at the races at the Picton Centre. All new runners and riders! A meal to be included in the ticket price £10.
Mon 17th September 2018 Dinner - Speaker Meeting
We welcome our RYLA and Youth Exchange students to talk about their experiences.
read more...
Sat 15th September 2018 Coffee Morning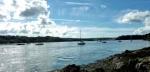 A fund raising event to be held in the riverside home of Ian & Christine Jacob. Enjoy the incoming tide filling the river.
read more...
Thu 13th September 2018 Fresher Fair at Pembrokeshire College
The Youth Committee will be attending to advertise all that Rotary has to offer to young people.
Mon 10th September 2018 Lunch Meeting
Mon 3rd September 2018 Business Meeting, Committees at 6.45 pm
Mon 27th August 2018 Bank Holiday, No Meeting
Mon 20th August 2018 Car Treasure Hunt
Mon 13th August 2018 Lunch Meeting
Mon 6th August 2018 Business Meeting, Committees at 6.45 pm
Mon 23rd July 2018 Lunch Meeting
Mon 16th July 2018 Dinner - Fellowship Evening
Mon 16th July 2018 Council
Mon 9th July 2018 Lunch Meeting
Mon 2nd July 2018 Business Meeting, Committees at 6.45 pm
future
calendar
district events
local events