Completed meetings and events 2017-2018
Mon 18th June 2018 The Way Forward for the Rotary Club, Dublin – open discussion
The Way Forward for the Rotary Club, Dublin – open discussion
Sat 16th June 2018 Bloomsday
Bloomsday at National Yacht Club Dun Laoghaire
Mon 11th June 2018 weekly meeting
Frank Bannister Living in New York City and Dublin
Wed 6th June 2018 Presentation about the Republic of Macedonia and the Rotary Club Website
Veronica Kunovska will present the Rotary website and will talk about the natural beauties of Macedonia, its historic and cultural heritage, and will include video projections about Macedonia.
Mon 4th June 2018 No weekly meeting
Public Holiday
Mon 28th May 2018 weekly meeting
Visit of District Governor Garth Arnold
Mon 21st May 2018 weekly meeting
Wed 16th May 2018 Quiz Night
Our Quiz Night to be held in the Grand Canal Hotel on Wednesday May 16th 7.30 registration for an 8pm start. Please return Booking Form to Delma Sweeney at delma.sweeney@mu.ie
read more...
Mon 14th May 2018 weekly meeting
Today our speaker is Simone George Safe Ireland
Thu 19th April 2018 - Fri 20th April 2018 FUNDRAISING FOR ROTARY FOUNDATION HEALTH IS YOUR WEALTH - I RECHARGE BASED ON " A GIFT OF HEALTH" AUTHORED BY ROTARIAN MARIANDY LENNON

Interactive power point presentation and actual demonstration and practice of mind mental and body works. Preventive health is better then cure. We are committed to a sound body and sound mind- MENS SANA IN CORPORE SANO
Mon 16th April 2018 Weekly Monday's meetings
tbc
Mon 9th April 2018 Weekly Monday's meetings
tbc
Fri 6th April 2018 Cultural Walk Through UCD, Belfield Dublin
This should be most interesting as David Horkan is an authority on all things artistic, being a leading member of the RDS Arts committee. You may bring a snack with you or alternatively there are many cafes and canteens dotted around the campus.
Wed 4th April 2018 Evening meeting
Speaker Udo Reulbach – The Art and Science of Happiness
Mon 2nd April 2018 Weekly Monday's meetings
Easter Monday no meeting
Mon 26th March 2018 Weekly Monday's meetings
Yvonne Almo O'Connor Vice Chair Irish Jewish Museum
Mon 19th March 2018 Weekly Monday's meetings
Alan Nolan CEO, SIMI(TBC)
Mon 12th March 2018 Weekly Monday's meetings
Rosemary Keogh CEO Irish Wheelchair Association
Thu 8th March 2018 International Women's Day Breakfast
International Women's Day Breakfast in the greenore/Rostrevor Centre
Mon 5th March 2018 Weekly Monday's meetings
Open discussion of the report on lapsed members
Mon 26th February 2018 Weekly Monday's meetings
Presentation of report on lapsed members
Sat 24th February 2018 President's Dinner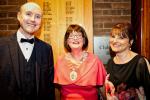 President's Dinner at Fitzwilliam Lawn Tennis Club
Mon 11th December 2017 Club weekly meeting
Christmas Lunch
Mon 4th December 2017 Club weekly meeting
We meet for lunch at a cost of 19 euro. If you would like to attend please contact us at tkedits@eircom.net
Mon 27th November 2017 Club weekly meeting
We meet for lunch at a cost of 19 euro. Carmel O'Connor, St Andrew's Centre-Trust grant is our speaker today.If you would like to attend please contact us at tkedits@eircom.net
Mon 20th November 2017 Club weekly meeting
We meet for lunch at a cost of 19 euro.SGM &Presentation of Annual Accounts. If you would like to attend please contact us at tkedits@eircom.net
Mon 13th November 2017 Club weekly meeting
We meet for lunch at a cost of 19 euro.Trinity Access Programme – Trust grant is topic at this meeting. If you would like to attend please contact us at tkedits@eircom.net
Mon 6th November 2017 Club weekly meeting
We meet for lunch at a cost of 19 euro. Nick Henderson, Irish Refugee Council is our speaker today.If you would like to attend please contact us at tkedits@eircom.net
Mon 30th October 2017 no meeting Bank Holiday
Bank Holiday -no metting
Mon 23rd October 2017 Club weekly meeting
We meet for lunch at a cost of 19 euro. Bob Semple, SUAS is our speaker.If you would like to attend please contact us at tkedits@eircom.net
Mon 16th October 2017 No meeting
Due to the extreme weather conditions forecast for tomorrow Monday October 16th it has been decided to cancel the Monday Lunch in the Grand Canal Hotel
Mon 9th October 2017 Club weekly meeting
We meet for lunch at a cost of 19 euro. Normally we have a short lecture on a topical issue.If you would like to attend please contact us at tkedits@eircom.net
Mon 2nd October 2017 Club weekly meeting
We meet for lunch at a cost of 19 euro. Normally we have a short lecture on a topical issue.If you would like to attend please contact us at tkedits@eircom.net
future
calendar
district events
local events