Completed meetings and events 2017-2018
Thu 1st March 2018 No meeting tonight due to cold weather and snowfall

Met Eireann (Irish weather forecast) predicts heavy snowfall and ice, thus better to stay at home tonight.
Thu 1st February 2018 The story of a journey from the commercial to the spiritual world.

Brother Malachy Thompson, Prior of Mount St Joseph Abbey will share his story with us.
read more...
Thu 2nd November 2017 Gary Saul about: 25 Billion square metres of waste" What am I doing about it ?
A solution inspired by Louis Braille ( Inventor of coded system for the visually Impaired) who provided a Lifeline for many.
read more...
Thu 5th October 2017 Clubspeaker: History and Impressions of Morocco
Warm appetizers and drinks will be served at the beginning of the meeting, followed by an interesting talk by Member Christoph about Morocco, a fascinating country full of history, culture and beauty.
Sat 22nd July 2017 Rotary Viking Presidents Handover 2017-2018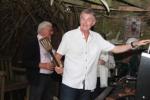 Dublin Viking presidents handover to President Harold McMillan. A fun event at a gorgeous day with fellow Rotarians, family and friends.
Sat 1st July 2017 - Mon 3rd July 1911 Viking collects 19 bikes for Bikes4Africa

Rotary in cooperation with Jole Rider collects and helps to fix bicycles for school children in Africa to cut their 3hour school walk to a 30 minute school bicycle ride so they make it to school and a brighter future.
future
calendar
district events
local events