Completed meetings and events 2017-2018
Fri 1st June 2018 - Sun 3rd June 2018 Euromeet Rotary weekend in Antwerp

Each year members of various Rotary clubs meet in a European city to celebrate togetherness, peace and making a difference through Rotary.
Interested to join please contact our club secretary via the contact option on our website.
Fri 25th May 2018 Morning meeting with visiting Rotarians from Denmark
During this special Rotary meeting we will welcomed 25 visiting Rotarians from Denmark. Jointly we had an amazing visit at Dublins new Waste to Energy incineration plant. Special thanks to our member Tom who organized this very well received visit.
Thu 3rd May 2018 Guest speaker Sarah Joyce, our Rotary youth competition winner
will talk about her trip to the European Parliament where she went as Winner of the Rotary youth competition winner. Finger food and drinks will be served.
Sat 21st April 2018 Presidents night 2018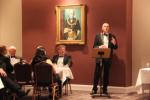 A great night with president Harold McMillan, fellow Rotarians and friends.
Sat 21st April 2018 Presidents Night 2018

President Harold McMillan and Rotary Viking will host this years President night at the building of the Grand Lodge of Ireland.
Thu 1st March 2018 No meeting tonight due to cold weather and snowfall

Met Eireann (Irish weather forecast) predicts heavy snowfall and ice, thus better to stay at home tonight.
Thu 1st February 2018 The story of a journey from the commercial to the spiritual world.

Brother Malachy Thompson, Prior of Mount St Joseph Abbey will share his story with us.
read more...
Thu 2nd November 2017 Gary Saul about: 25 Billion square metres of waste" What am I doing about it ?
A solution inspired by Louis Braille ( Inventor of coded system for the visually Impaired) who provided a Lifeline for many.
read more...
Thu 5th October 2017 Clubspeaker: History and Impressions of Morocco
Warm appetizers and drinks will be served at the beginning of the meeting, followed by an interesting talk by Member Christoph about Morocco, a fascinating country full of history, culture and beauty.
Sat 22nd July 2017 Rotary Viking Presidents Handover 2017-2018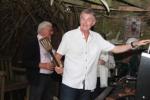 Dublin Viking presidents handover to President Harold McMillan. A fun event at a gorgeous day with fellow Rotarians, family and friends.
Sat 1st July 2017 - Mon 3rd July 1911 Viking collects 19 bikes for Bikes4Africa

Rotary in cooperation with Jole Rider collects and helps to fix bicycles for school children in Africa to cut their 3hour school walk to a 30 minute school bicycle ride so they make it to school and a brighter future.
future
calendar
district events
local events