Future meetings and events
Wed 18th October 2017 at 18.30 - 21.45 Welcome to the International Students!

Every year, Portobello welcomes the International Students to the city - hope everyone has a good time.
Sat 21st October 2017 at 19.30 - 23.30 Diwali Bash - women only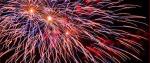 The Diwali Bash: A fundraising event for Sikh Sanjog at the Thomas Morton Hall.
An evening of feasting, dancing and bollywood glamour with friends including Leith Rotarians
Food from the famous Punjabi Junction
Tickets £35 email lesley@sikhsanjog.com
Wed 25th October 2017 at 19.10 - 21.30 Scatter week - Go to Oklahoma instead!

It's a scatter week, so no meeting at the hotel. Instead, we're off to the Church Hill Theatre, to see the musical Oklahoma!