Future meetings and events
Thu 28th February 2019 at 17.15 - 20.15 Council / Business Meeting
Council Meeting at 17:15 followed by meal at 18:30 and the Business Meeting. VH-Peter Torbet C-Peter Etwell
Thu 7th March 2019 at 17.30 - Wed 20th March 2019 - 20.00 Saltburn U3A Ukelele Band
Meal at 17.45 Entertainment at 19.00. VH Pat Anderson C Kevin Henderson
Thu 14th March 2019 at 17.30 - 20.00 "Hitler's Women"
A talk by Jan & Richard Crouch. Meal at 17.45 Talk at 19.00
VH Paul Whitefoot C David Lister
Thu 28th March 2019 at 17.15 - 20.00 Council & Business Meeting
Council Meeting at 17.15 followed by meal at 18.30 and Business Meeting. VH Dennis Claridge C Colin Monson
Fri 26th April 2019 at 11.00 - Sat 27th April 2019 - 23.00 Guisborough Beer Festival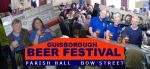 Held at the Parish Hall in Bow Street in Guisborough on the Friday & Saturday after Easter. 30+ real ales plus ciders, perry and local fruit wines. Come and sample our award winning steak & ale pies and lots more. Entertainment on Saturday evening.
Sat 18th May 2019 at 19.00 - 22.00 New World Wine & Food Evening
The theme is S America, S Africa, Australia and New Zealand. Dishes from these countries will be served with top quality New World wines, chosen to match the food. The cost is £30 per head, £20 for non-drinkers. Funds raised go to local charities.