Future meetings and events
Wed 28th March 2018 at 12.30 - 14.00 TBA . J.Cowell
Fri 5th October 2018 at 12.00 - Sun 7th October 2018 - 13.00 District Conference 2018

President-Elect Raymond Dance would enjoy your company at the 1030 District Conference in October 2018. If you do want to go to 2018 conference and stay in the Majestic Hotel with our group register now. Ask Raymond for details.
Sat 13th October 2018 at 19.00 - 23.00 President's Night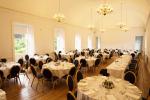 Venue Hexham Abbey The Great Hall.