Future meetings and events
Wed 2nd October 2019 at 19.30 - 21.30 Activity Planning Meeting
Review ongoing and planned events and activities
Wed 9th October 2019 at 18.30 - 19.30 Tour of Glede Brewery
Tour of brewery followed by buffet meal
Wed 6th November 2019 at 19.30 - 21.30 Activity Planning Meeting
Review ongoing and planned events and activities
Fri 8th November 2019 at 19.30 - 22.30 Quiz Night Supporting Clevedon & District Foodbank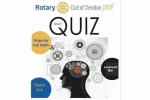 Teams of 4 - £7.50 per person including Ploughman's Supper.
A prize for the winners.
Licensed Bar
Greyfriars Hall Marine Hill Clevedon
Telephone 01275218987 or email rccyeo@gmail.com for tickets.
Sat 30th November 2019 at 14.00 - 18.00 Clevedon Christmas Lights Switch On

The club will be selling raffle tickets to win £100 worth of provisions to fill a Christmas Hamper
Wed 4th December 2019 at 19.30 - 21.30 Activity Planning Meeting
Review ongoing and planned events and activities
Thu 5th December 2019 at 16.00 - 21.45 Hill Road Christmas Fayre

Visit The Rotary Club stall; raffle tickets on sale for £100 Christmas Hamper contents.
Wed 8th January 2020 at 19.30 - 19.30 Activity Planning Meeting
Review ongoing and planned events and activities
Wed 5th February 2020 at 19.30 - 21.30 Activity Planning Meeting
Review ongoing and planned events and activities
Wed 4th March 2020 at 19.30 - 21.30 Activity Planning Meeting
Review ongoing and planned events and activities
Wed 1st April 2020 at 19.30 - 21.30 Activity Planning Meeting
Review ongoing and planned events and activities
Wed 6th May 2020 at 19.30 - 21.30 Activity Planning Meeting
Review ongoing and planned events and activities
Wed 3rd June 2020 at 19.30 - 21.30 Activity Planning Meeting
Review ongoing and planned events and activities