Future meetings and events
Wed 20th November 2019 at 18.30 - 20.30 20th Nov. Emma Athersmith - Cancer Care
Emma joined CC in August 2018 as the Community Fundraiser for Barrow and Furness, becoming Head of Fundraising in March 2019. She is responsible for the charity's income generation and leadership of the fundraising team.
Sat 23rd November 2019 at 13.30 - 16.00 23rd Nov. Santa Dash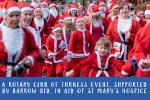 Join us for an afternoon of fun to get you in the festive spirit and raise vital funds for St Mary's Hospice. It's not a race, but there will be the opportunity to time your run – so you can run, jog, walk or jingle all the way!
Wed 27th November 2019 at 18.30 - 20.30 Club meeting
Wed 4th December 2019 at 18.30 - 20.30 Club meeting
Wed 11th December 2019 at 18.30 - 20.30 Club meeting
Wed 18th December 2019 at 18.30 - 20.30 Club meeting
Wed 25th December 2019 at 18.30 - 20.30 No meeting
Wed 1st January 2020 at 18.30 - 20.30 No meeting
Wed 8th January 2020 at 18.30 - 20.30 Weekly meeting
Wed 15th January 2020 at 18.30 - 20.30 Weekly meeting
Wed 22nd January 2020 at 18.30 - 20.30 Weekly meeting
Wed 29th January 2020 at 18.30 - 20.30 Weekly meeting
Wed 5th February 2020 at 18.30 - 20.30 Weekly meeting
Wed 12th February 2020 at 18.30 - 20.30 Weekly meeting
Wed 19th February 2020 at 18.30 - 20.30 Weekly meeting
Wed 26th February 2020 at 18.30 - 20.30 Weekly meeting
Wed 4th March 2020 at 18.30 - 20.30 Weekly meeting
Wed 11th March 2020 at 18.30 - 20.30 Weekly meeting
Wed 18th March 2020 at 18.30 - 20.30 Weekly meeting
Wed 25th March 2020 at 18.30 - 20.30 Weekly meeting
Wed 1st April 2020 at 18.30 - 20.30 Club meeting
Wed 8th April 2020 at 18.30 - 20.30 Club meeting
Wed 15th April 2020 at 18.30 - 20.30 Club meeting
Wed 22nd April 2020 at 18.30 - 20.30 Club meeting
Wed 29th April 2020 at 18.30 - 20.30 Club meeting
Wed 6th May 2020 at 18.30 - 20.30 Club meeting
Wed 13th May 2020 at 18.30 - 20.30 Club meeting
Wed 20th May 2020 at 18.30 - 20.30 Club meeting
Wed 27th May 2020 at 18.30 - 20.30 Club meeting
Wed 3rd June 2020 at 18.30 - 20.30 Club meeting
Wed 17th June 2020 at 18.30 - 20.30 Club meeting
Wed 24th June 2020 at 18.30 - 20.30 Club meeting
Wed 1st July 2020 at 18.30 - 20.30 Club meeting