Future meetings and events
Mon 6th November 2017 at 19.00 - 21.30 Club Meeting
Meeting at Ilfracombe Golf Club
Sat 11th November 2017 at 19.30 - 22.00 Inter-club Pub Games

This time we will definitely beat the 'lunchtime club'! Let John know if you can be part of our team. £8.
Mon 20th November 2017 at 19.00 - 21.30 Club Meeting
Meeting at Ilfracombe Golf Club
Fri 15th December 2017 at 07.00 - 12.00 Compass Christmas Bash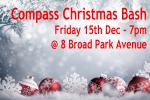 to be held at Peter & Edwina's house - 8 Broad Park Avenue. Please bring some food to share.