Future meetings and events
Sun 22nd April 2018 at 11.00 - 14.00 Wooffy Runs 'The London Marathon' for Compass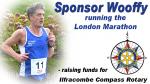 It's great that our local Ilfracombe Running Club Chairman, 'WOOFFY' (Andrew Wooff) has been chosen to compete in this year's London Marathon. It's also great that he has chosen Ilfracombe Compass club to receive all of his sponsorship donations.
Sun 10th June 2018 at 11.00 - 13.00 Woolacombe 10k Beach Run 2018
This popular annual event is raising money to support the 'Over and Above' appeal for a North Devon Cancer and Wellbeing Centre.