Future meetings and events
Mon 14th October 2019 at 19.30 - 21.30 Les Howard - Grenfell Tower
A disaster waiting to happen
Sat 19th October 2019 at 20.00 - 21.00 Charity dinner at Coppid Beech Hotel
In memory of John Nike. Black tie event.
Mon 21st October 2019 at 19.30 - 21.30 Chris Brown
Hear from the Town Crier from Windsor & Maidenhead
Tue 22nd October 2019 at 10.30 - 17.30 Supermarket Collection
Taking place at Morrisons Woosehill in aid of our End Polio Now campaign
Mon 28th October 2019 at 19.30 - 21.30 Business & Communications Meeting
An update of progress so far this year
Sat 2nd November 2019 at 17.30 - 21.30 Wokingham Fireworks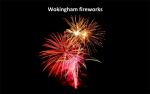 Charity Bonfire Night Spectacular
Sun 24th November 2019 at 09.00 - 18.00 Wokingham Winter Carnival
2019 is the 50th anniversary of the moon walk, so this year's theme is 'A Space Adventure', and we hope you'll join us on planet Wokingham on Sunday 24th November.
Wed 11th March 2020 at 19.00 - 23.00 5-Clubs Dinner
Annual get together with other local RCs
Fri 13th March 2020 at 16.00 - Sun 15th March 2020 - 13.00 District 1090 Conference

Annual Conference at Newbury Racecourse